What is trash panda poetry? Trash Panda began as a poetry collection I wrote full of mostly very self awarely emo poems. Poems aware of themselves, aware of the medium (the internet) upon which they will be viewed & the context they will be viewed in. They were somewhat tongue in cheek but also sincere af. I was inspired by my literary friends on the internet who used words to play. I liked how they did not take themselves dead seriously. It was refreshing & made me excited about poetry again. As I worked on the collection over about a year I kept thinking about how cool could it be if I started a literary mag called Trash Panda Poetry. It just sounded right. Silly & fun but also kinda weird. The poems I wrote in this collection are very manic depressive. I have bi-polar & the poems reflect that. I see the poems in this collection as written in mixed episodes. It was the state of mind I had to be in to write them. Sort of happy sort of pissed sort of sad. It had to be a weird zen balance or else I could not summon that trash panda voice that is fun, sad, angry, wistful, stoic, & histrionic all at once. It was actually a pretty fun & calming & empowering state of mind to be in & not at all like a mixed episode which is super frightening.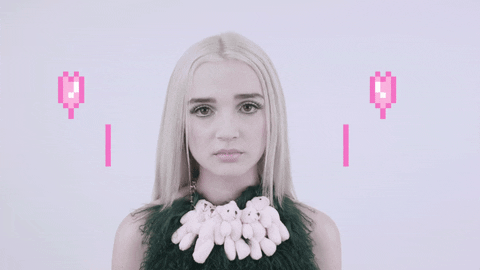 There is something empowering about taking on a persona. I became the panda last year at AWP & will do so again at this year's AWP in Portland, OR. I put the head on & walked around & it was a crazy out of body experience. I felt like I was suddenly at a rave, sort of. I think I made other people feel that way for sure. It brought out the party panda in others. I invite you to liberate yourself from your own perceived self & mode of being. Let the panda be your guide (or any other animal or being or thing you relate or connect to at the moment). Free yourself from your habits. Try something new. Explore uncharted terrain. I want to see your weird experiments.
I do not expect or want others to write like me. I would like those that submit to let the trash panda be their muse. This mag is created in the spirit of fun. Even though it is called trash panda POETRY I will accept things other than poetry. Especially interested in memes you yourself create, collage art, erasure, cento or any kind of poetry that experiments with the medium, photography, intelligent pop culture commentary, essays that are personal & timely & relatable. This is a place for entertainment, connection & vulnerability. Darkness in all its forms, pretty & ugly are welcome. After all, everything about trash panda poetry is emo af.
Send submissions to trashpandapoetrymag@gmail.com
Addressed to me (Leza) you can also call me Trash Panda if you like.
Specify in subject line what is the medium of submission & then title or part of the title.
Include your bio & in body of paragraph along with a brief summary of your submission.
Keep essays under 2000 words.
Include one or more visuals. One is required for header. Additional ones jazz up & break up words & are encouraged.
Attach content as a word doc or jpg/png if visual.
Attach bio pic. (can be your spirit animal pic)
Please reload